The Cat Friendly Practice® program is a global initiative designed to elevate care for cats by reducing stress and making visits easier for cats and caregivers. This is accomplished by supporting the veterinary team so the entire staff is educated and knowledgeable about your cats' distinct needs and behaviors.
Cat Friendly Practices® must also meet specific criteria within their practice to earn this designation, which includes providing a waiting area for cats that is separate from other animals (or alternative options to reduce stress prior to entering the exam room) and implementing best practices to reduce stress throughout the visit (exam room, physical exam, pain management, operating and anesthesia, dentistry, diagnostic imaging, and more).
When you visit a Cat Friendly Practice® you can expect the veterinary team to:
Understand the unique needs and behaviors of cats.
Have a feline-friendly environment and make veterinary visits more cat friendly.
Understand how to approach and handle cats in a gentle, empathetic, and caring manner.
Have the appropriate equipment and facilities needed to diagnose and treat feline patients.
Meet specific standards for the facility and care of hospitalized cats.
Cat Friendly Practices® Take Extra Steps to Provide the Best Care and Experience For You and Your Cat
Feline-Friendly Handling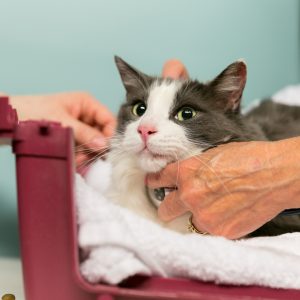 Physical exams are performed in a manner and location
where they are least stressful to your cat which might
include the bottom of the carrier.
Team members use Feline Friendly Handling Guidelines and Nursing Guidelines which ensures your cat is handled gently and respectfully. They are trained to identify subtle signs of sickness and pain in cats. Physical exams, or checkups, are performed in a manner and location where they are least stressful to your cat (floor, bench, bottom of carrier, under a blanket, table, or veterinarian's lap).
Veterinary Practice Premises & Waiting Area
All Cat Friendly Practices® are designed to help reduce the stress of visiting the veterinary office. They may have a cat-only waiting area or alternate way to separate cats from other animals, and are free of excessive noise. Cat Friendly Practices® know your cat's senses are on high alert and seeing, hearing, or smelling other animals can produce anxiety.
Client Education
Cat Friendly Practices® have feline specific educational materials readily available for their clients. They also educate their clients on important feline issues like behavior, nutrition, environmental enrichment in the home, zoonotic diseases, parasite prevention, and normal scratching behaviors.
Feline Preventive Healthcare by Life Stages
Cat Friendly Practices® recommend annual checkups for all cats and twice a year for senior cats or those with chronic conditions. All examinations must include a pain, nutrition, and behavior assessment. All recommendations are individualized to each cat based on life stage, lifestyle, and health concerns. Vaccinations are given based upon the AAFP Feline Vaccination Guidelines.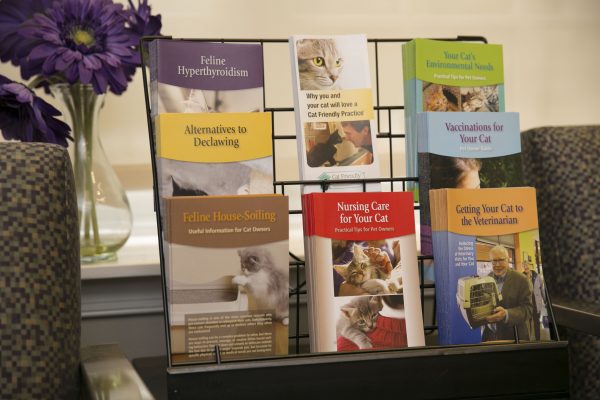 Cat Friendly Practices® have feline specific educational
materials readily available for you to learn more about
your cat.
Education and Training
All staff who work with cats must meet a minimum requirement of continuing education including hours specifically in feline medicine.
Comfortable and Thoughtful Hospitalization
Team members are aware of signs of feline stress that may occur when cats are hospitalized. The emotional status of each cat is considered when developing all treatment plans. Cats are offered "safe havens" or hiding places where they can retreat and relax. Clients are encouraged to bring in a blanket or other item that smells like "home" to help keep their cat from getting stressed.
Dentistry
Cat Friendly Practices® know that good dental health is crucial to the overall wellness of cats. They offer dentistry and dental radiographs or can refer you to a Cat Friendly Practice® that offers these services.
Emphasis on Pain Management
Cat Friendly Practices® follow Pain Management Guidelines to ensure your cat's pain level is carefully monitored before and after procedures. Your veterinarian will also assess your cat's pain during the checkup. This is especially important if your cat has a painful condition like degenerative joint disease, also known as arthritis.
Equipment and Operating Room
There is a dedicated operating room with feline-sized equipment, as well as equipment used for monitoring, anesthesia, and radiography. These items help the veterinary team perform procedures and surgeries with the highest level of feline care.