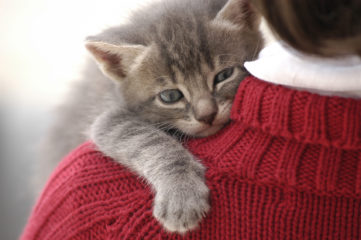 As you make the decision to adopt a cat, it is important to remember that this is a lifelong commitment.
To be the best possible cat caregiver, you really need to have a solid understanding about:
How to meet your cat's environmental needs
Feline behaviors
Feline health conditions
The critical need for routine preventive veterinary visits
Identifying and securing a veterinarian you trust is paramount. For assistance in finding a veterinarian in your area, use the Find a Veterinarian and Practices locator.
As a new cat owner, my local Cat Friendly Practice (CFP) has been paramount in educating me on how to properly care for my cat. The vet at my CFP led a seminar for new cat owners on feline health and wellness – the information I learned was invaluable. I really appreciate the cat friendly office set-up and feline-only exam room. – James W. – Michigan
Click on the links below for more information on how to give your cat the long, happy, and healthy she deserve.