In 2012, a committee of feline veterinarians from the American Association of Feline Practitioners realized that many cat caregivers are a bit unwilling or stressed to bring their cat to the veterinarian. The solution was the Cat Friendly Practice® program.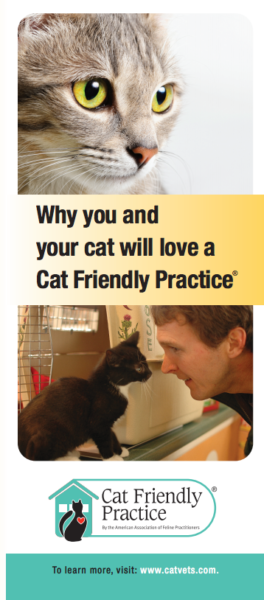 Veterinary clinics designated as Cat Friendly Practices® have proven they take extra steps that show they understand your cat's unique needs. The program is designed to:
Help reduce the stress from visit to the veterinarian.
Improve the quality of care provided.
Support the veterinary team so that the entire staff has the knowledge and resources to understand cats' distinct needs and behaviors.
Visiting a Cat Friendly Practice® can provide lifelong benefits for your cat. You can expect your Cat Friendly Practice® to:
Understand the unique needs of cats and make veterinary visits more cat-friendly.
Understand how to approach and handle cats in a gentle, sensitive, and caring manner.
Create a physical space designed with you and your cat in mind.
Meet standards for facilities and care of hospitalized cats.
Currently there are over 1,000 designated Cat Friendly Practices® across North America and South America. If your veterinarian is not a Cat Friendly Practice® you can fill out a form to let them know about the program.
To get an in-depth look at the AAFP's Cat Friendly Practice® designation check out our segment on the Discovery Channel's TV show Innovations with Ed Begley Jr.
Click the video below to find out how CFPs can reduce stress of cat visits:
---
Program Sponsored by:
Program Supported by:
Kit4Cat
Program Endorsed by:

© Copyright 2017 International Cat Care and American Association of Feline Practitioners. All rights reserved.
Cat Friendly Practice® is a program conceived and developed by International Cat Care.
The AAFP's Cat Friendly Practice® program (CFP) is available to practices in North and South America, as well as the Caribbean.
The ISFM's Cat Friendly Clinic program (CFC) is available in all other locations.